Orthodontics in Barrie
Ferguson Family Dental is happy to provide orthodontics and orthopedics in Barrie for patients who want help with the alignment of their teeth.

Though some people may confuse the terms, Orthodontics and Orthopedics are different types of vital dental practices. Orthopedics is usually started earlier in the process as an effort to alter facial growth and jaw structure. It has been recorded that around 60% of malocclusion (incorrect tooth alignment) is genetic. The implication of this fact is that the remaining 40% of malocclusion arises due to external factors such as tongue positioning, breathing habits, allergies, or enlarged tonsils. Since all of these factors can influence the development of the lower face in the early stages of a child's growth, it is important to consult a medical professional such as your family dentist in Barrie at Ferguson Family Dental.

By catching these changes early, you can reduce the risk of further corrections made later in life. If properly timed, functional therapy can influence a child's development by discouraging mouth breathing, poor sleeping habits, and slow physical growth pattern. Functional orthopedics can contain therapy used with removable appliances that can alter the development before it progresses into a later stage.

Functional Orthopedics may be recommended to younger patients to assist with genetic factors such as sleep habits, TMJ pain, sleep apnea, small lower jaws, or proud upper teeth ("buck teeth").

Orthodontics traditionally involve the use of braces that are bonded to the teeth. Braces allow a dental professional to monitor the teeth during recurring visits and make minor alterations to the appliance to modify the alignment. There are a variety of orthodontics in Barrie and Ferguson Family Dental is happy to help you be aware of your options.
 
Invisible Braces

Dental professionals often recommend dental braces for the purpose of altering the alignment of your teeth. However, they may also recommend an appliance known as Invisalign Invisible Braces as an alternative orthodontic method. The treatment functions by using a series of translucent plastic aligners to help alter your teeth's position. Unlike metal braces, these aligners are meant to show more of your tooth's natural colouration. The aligners are typically customized to the unique features of your mouth by a professional such as your dentist in Barrie.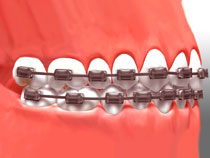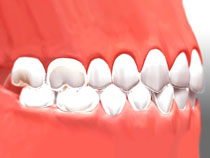 A set of Invisalign Invisible Braces is also removable. As such, you can remove the device prior to meals, as well as other parts of your oral health care regimen. It is important to note that it is typically recommended that you wear an Invisalign oral appliance for at least 21 hours per day. As such, while you can remove it, you should keep it in as long as possible to extend the opportunities for the device to make alterations. As with any alteration to your oral health, Invisalign is not for everybody. You should consult with a dental professional to discuss your options for treatment as well as the full information about what is involved.

At Ferguson Family Dental, we are more than happy to work with you to discuss orthodontic or orthopedic treatments, including Invisalign in Barrie. If you would like more information or to book an appointment, contact us today or request an appointment online.
Last Updated On
2021-09-16