Implant Dentistry Barrie & Dental Implant Restoration Barrie, ON
At Ferguson Family Dental, we offer implant dentistry in Barrie for patients who require a dental substitution.

Sometimes, the recommended procedure for an oral issue you are experiencing is a tooth extraction. After this procedure, the space where the tooth was extracted should be allowed to heal properly to prevent a buildup of bacteria, decay, or infection. If left untreated, this space can lead to further complications later in life. When a tooth needs to be extracted, the space can be filled with an artificial oral replacement to substitute the natural structure of your tooth.

Implant restoration is often done by attaching artificial teeth to titanium implants which are anchored into the bone of the jaw below the gumline. After the anchor has been surgically placed into the jaw bone, the titanium can allow the excess bone and gum tissue to grow around the implant to hold it in place. This process will be monitored by a dental professional such as your Barrie dentists at Ferguson Family Dental.

Once the anchor is in place, an artificial tooth much like a dental crown can be attached. It may be necessary to remove some of the surface of surrounding teeth in this process. Artificial teeth are typically made of porcelain composites that can be customized to more closely match the colouration of your teeth. However, metallic teeth are also suitable choices. The decision between those options is something you should discuss with a dental professional, such as your dentist in Barrie.

The dental substitution will provide you with an additional chewing surface, as well as reducing the risk of further misalignment. However, you should still maintain proper oral hygiene habits to protect the longevity of the tooth. Your Barrie dentist at Ferguson Family Dental can advise you on any changes that you should be making to your routine.

If you have a gap in your mouth that you want to fill, or have an upcoming procedure that may cause one, Ferguson Family Dental can perform a comprehensive examination to determine if you are a proper candidate. Contact our Barrie dentists today or request an appointment online.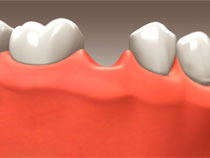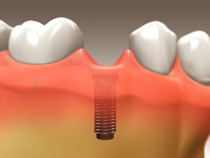 Last Updated On
2021-09-16